Winter weather can be difficult to manage. 
Use our meteorologists to ensure you are on top of the next big winter storm.
Use our weather forecasts to keep drivers informed of dangerous conditions on the roads.
Use advanced weather forecasts to re-route drivers before they encounter dangerous weather or road closures.
Keep drivers away from dangerous weather, reducing costs from accidents and penalties from delayed shipments.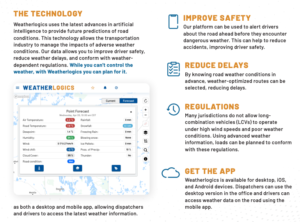 Transportation Tech in the Media
A selection of articles about how Weatherlogics' forecasting technology is used in the transportation industry.
Here are some screenshots of our transportation forecast email and app
Most frequent questions and answers
Yes we offer trials for organizations that would like to learn more about our road forecasting service. Click here to get started
Pricing for transportation companies is based on fleet size. Please schedule a call with us for more details or a custom quote.
Contact us we'll get back to you right away. You can also use the chat pop-up located at the bottom right of your screen.