Available in the Weatherlogics App 
for Agriculture Premium Subscriptions 
Frost, Disease, and Spray risk tables – What are they and how do they work?
Getting Started
On the Ag Risk page you can view colour-coded frost, disease, and spray forecast tables. Here are some steps to get started viewing agriculture risk in your area:
To get started,

view the Ag Risk page.

It is available under the "Table Forecasts" menu.
In the options panel you can

select a past date using the archives button

to look at previous forecasts.
Click the other tabs to view the disease and spray tables.
You can use the star icon in the toolbar to favourite an agriculture risk table. Your favourite is the first page shown when the app first loads.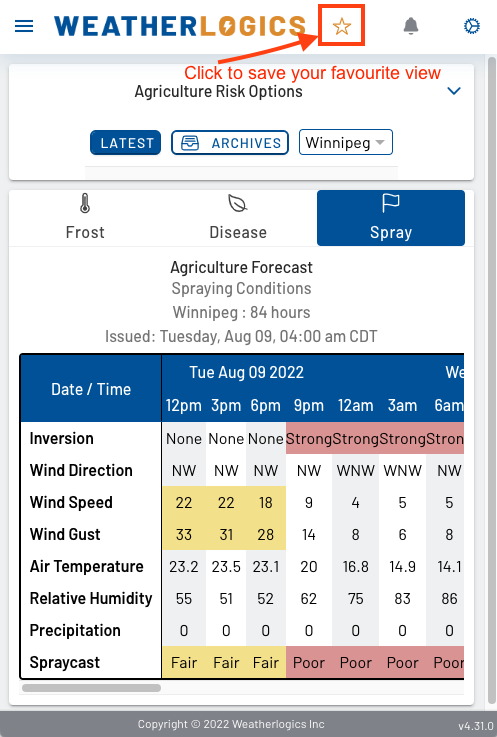 Notes: Our spray, frost, and disease forecasts are based on weather data closest to you. The spray forecast categorizes risk based on government guidelines for spraying. The disease forecasts are based on scientifically-reviewed crop forecasting models.
What is available in the Agriculture Risk Tables?
Frost Risk Table
Predicted low temperature
Frost and hard freeze probabilities 
Freeze severity type

 Disease Risk Table
Fusarium head blight
Sclerotinia
Late Potato Blight
Leaf Rust

 Spray Forecast Table
Inversion strength
Wind direction, speed, gust
Air temperature
Relative humidity
Spray forecast recommendation

Agriculture Risk Spray Forecast 
Watch the video below for an explanation of the how the spray forecast works.
➕ More to Explore
There's so much to explore in the Weatherlogics app. Here are some other features to check out! We look forward to highlighting these app features in future blog posts.
Basic Subscriptions
You can view weather radar on the interactive map
Forecast graphs and tables
More forecast maps than those included in your daily email
Premium Subscriptions
Everything in the basic subscription, plus more!
Create custom alerts from weather stations or create forecast alerts on the table forecast page to know when the forecast is showing specific conditions
View road forecasts on the interactive map and click any location for a point forecast