Severe weather summary: September 10, 2021
The past two weeks were active by September standards across the Prairies. Saskatchewan recorded 62 hail reports, including 48 reports that were considered severe (diameter >= 2 cm / 0.75 in). Alberta also recorded a number of hail events, with 38 in total and 15 severe. Conversely, Manitoba had no hail reports. However, there were a couple isolated hail claims in Manitoba, implying that there were a few isolated storms that produced hail. No tornadoes were reported in any of the three provinces and wind reports were also minimal.
The map below shows a significant swath of hail that occurred from south of Moose Jaw, through Regina, ending near the Manitoba border. This hail swath occurred on August 31, 2021 as a series of intense thunderstorms developed and moved through Saskatchewan.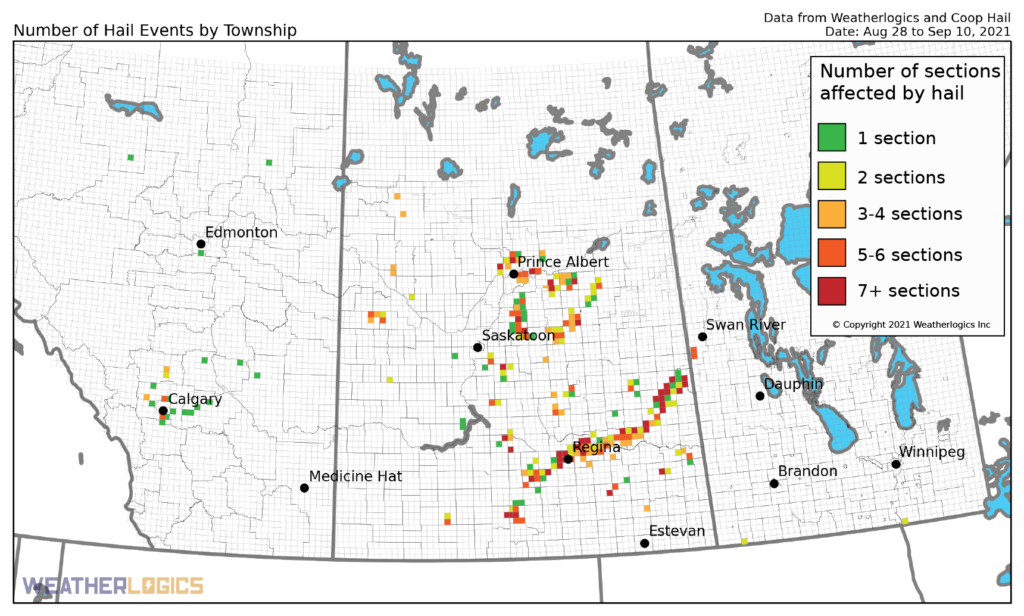 While the past two weeks were still quite active for severe weather, such activity is far less likely in September than in the months of June through August. As a result, our next report will be the final one for 2021. In the final report we'll summarize this summer's weather statistics and show how they compared to previous years. To learn more about our severe weather services, just click the button below: