Historic Heat Wave
The Weatherlogics June weather story was a historic heat wave across western Canada. Extreme heat gripped the west in late June, resulting in a new all-time record high temperature for Canada of 49.6 C being set in Lytton, BC on June 29. In fact, Lytton, BC set a new all-time high for Canada on three consecutive days, with highs of 46.6, 47.9, and 49.6 C on June 27, 28, and 29, respectively. These extreme temperatures beat the long-standing record high for Canada of 45.0 C set on July 5, 1937 in Midale and Yellow Grass, SK. Many other cities also set all-time record highs for their locations. The table below shows the hottest temperatures ever recorded in Canada since records began in 1840. After this heat wave, 14 of the 15 hottest temperatures in Canadian history were now set between June 27-29, 2021. In addition, many stations in Alberta recorded their warmest June on record, including Edmonton and Calgary.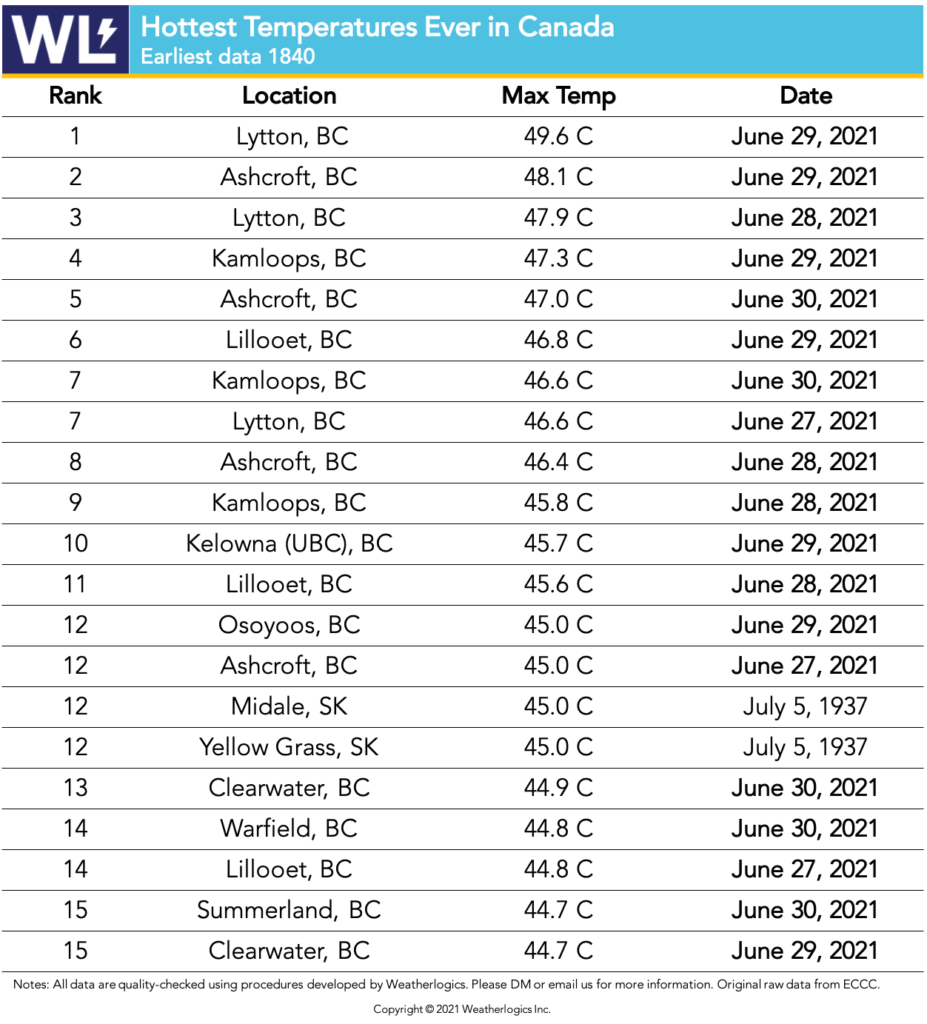 Monthly Data Tables
Using our proprietary climate database, we can provide weather or climate statistics for any location in Canada. Our climate summaries give a brief overview of the previous month's weather in terms of mean temperatures and precipitation compared to normal. The following pages include monthly summaries for Manitoba, Saskatchewan, and Alberta. We are available to answer any questions or provide more detailed information.
Actual – The actual mean temperature or total precipitation that occurred in the given month.
Normal – The 30-yr average mean temperature or total precipitation for the given month. We currently use the 1991-2020 period to calculate normal values.
Anomaly – The difference between the actual value and the normal value. Positive values indicate higher than normal, negative are lower than normal.
Rank – The all-time rank of the given month for the location. A value of 1 indicates that the value is the warmest/driest on record at that location. Any locations with a rank in the top-5 all-time for that month are in bold.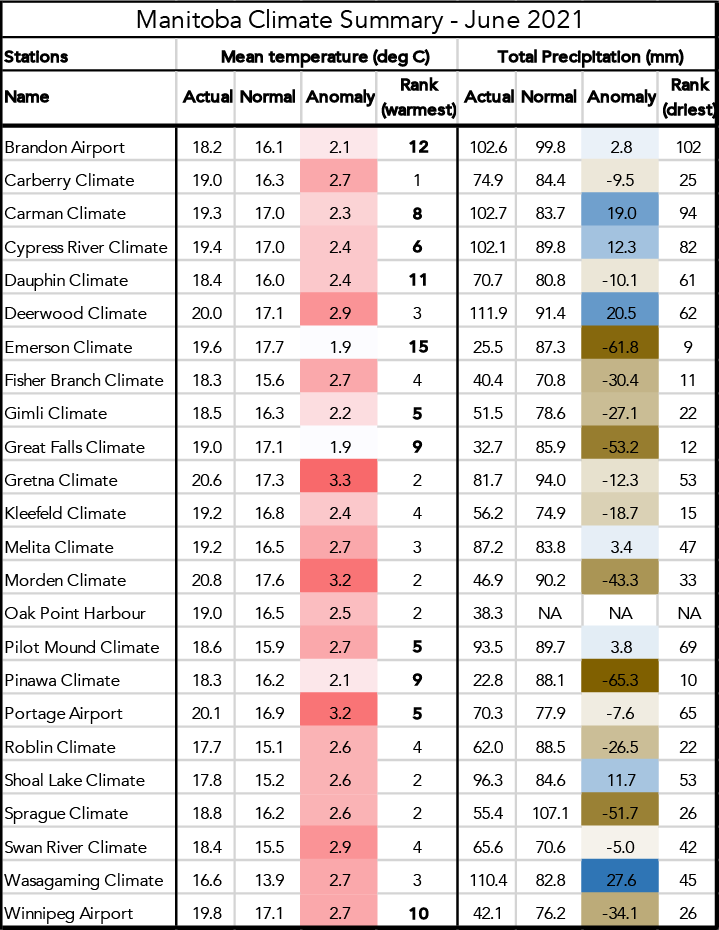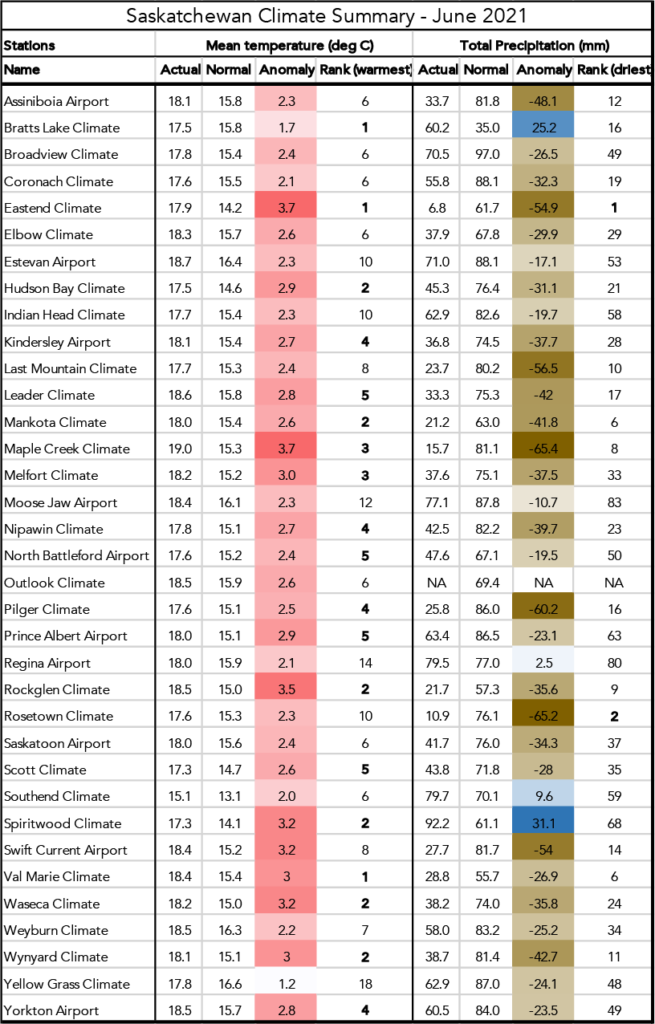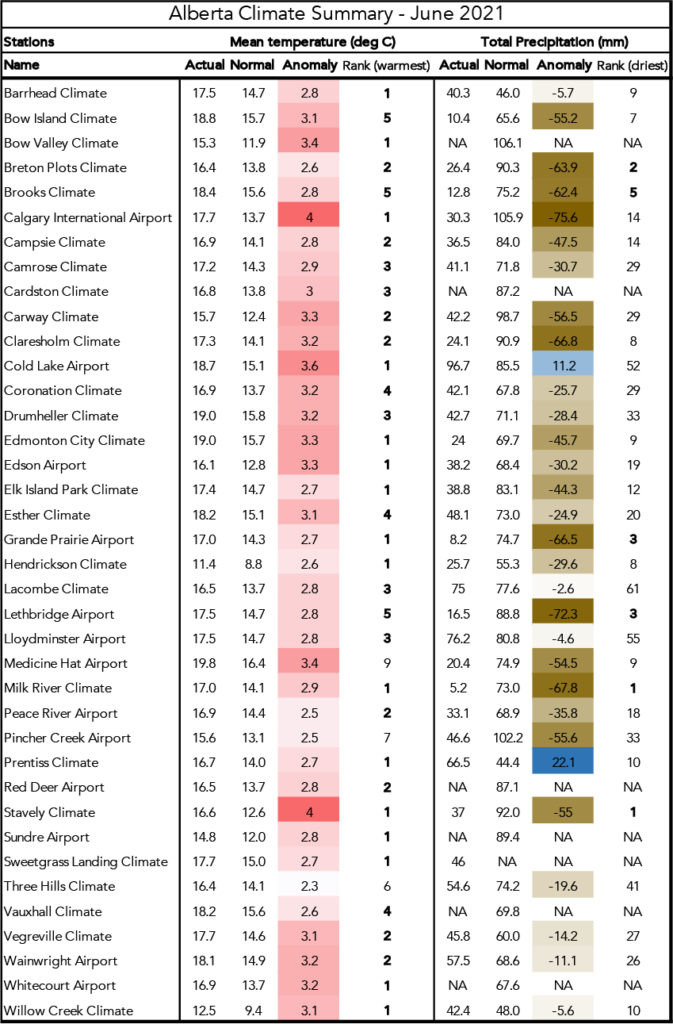 Looking for More Information?
If you need more information, don't hesitate to contact us. We are experts in weather and climate data.